How We Grew Construction Software Company's Organic Traffic by 230%
Bridgit is a Canadian software company that develops software for the construction industry. The company was founded in 2014 and is headquartered in Kitchener, Ontario. Bridgit's software is mainly used for resource and workforce management, allocation, and scheduling. 
Bridgit used to work with different SEO agencies before, but never saw satisfactory results. They've tried and tested a number of companies before working with us and were eager to see the results. 
The challenging part about structuring the digital marketing strategy for Bridgit was that their offer is very niche – even though they are providing construction software solutions to the public, their offer is aimed at general contractors & subcontractors that use software to allocate and manage resources & the workforce. 
Increase in Organic Traffic
Rankings for Target Keywords
We started working with Bridgit in July 2020 by carrying out an SEO audit for their website – we've analyzed their site's technical health, the SEO standing and the content side of the website. We've also analyzed and researched Bridgit's business goals to make sure to take them into consideration when structuring our digital marketing strategy for this client.
Search Engine Optimization (SEO)
To begin with, we've carried out extensive keyword research and competitor analysis to pinpoint low-hanging fruit opportunities that would allow us to rank in the top results of Google SERP in the short term. Having identified the target keywords that needed to be used throughout the website pages, we've worked with the Bridgit team to either optimize their existing pages on the site or to create entirely new pages that would help the bridgitsolutions.com domain to rank for the identified keywords.
In addition to simply optimizing title tags, H1s, and meta descriptions, we've also revamped the content on the majority of the pages to reflect the search intent of the user and to include the main keywords.
It was also important to perform the content gap analysis to identify the opportunities that can be utilized to fill in the gaps between our site and our competitors' sites in terms of content. The content gap analysis gave us an idea of where we should concentrate our attention in the coming months to catch up/outpace our competitors in terms of organic traffic.
At the same time, we've been working on the content calendar to include additional topics that would be covered to support the main content pieces (guides) that were targeting strategic keywords on the site. For instance, we've created a guide called "Construction resource management explained" as cornerstone content, and then we've planned to create a series of supporting articles linking to the guide that would help solidify the guide's position in Google.
In addition to on-page SEO work, we've started working on off-page SEO. Having put together a comprehensive link-building strategy together, we've started building links to the key pieces of content on the site.
We are going to sum up the results we've been able to achieve for Bridgit in the span of 9 months (July 2020 – March 2021).
When it comes to organic traffic, bridgitsolutions.com site saw an additional 223% increase in sessions when compared August 2020 to March 2021 (July figures were skewed due to collaboration with Autodesk).

We've grown the bridgitsolutions.com's site keyword base by 276%, with 128 new keywords ranking on the first 3 positions in Google SERP. We've also added 97 additional keywords to the first page of Google.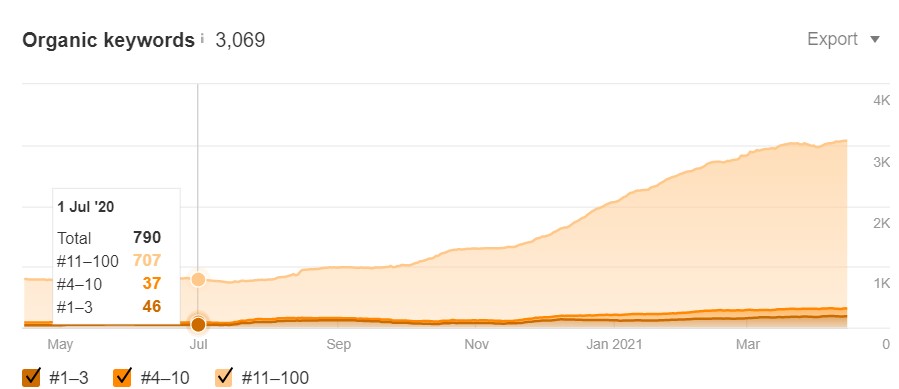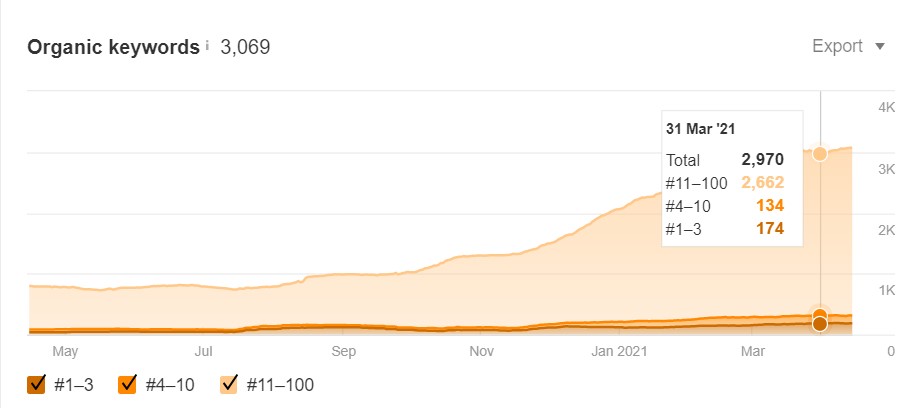 In addition, Bridgit was able to rank #1 in Google for the majority of the targeted keywords that were identified at the beginning of the contract.
Explore why hundreds of companies in the home service and construction sector trust Build Media Group to grow their business. We specialize in taking businesses from good to great.
Become our next case study
By entering your information above and clicking the "Get My Free Proposal" button, you agree to our Terms of Use and
Privacy Policy
, and that we may contact you, by SMS, at the phone number and email address you provide in this form in accordance with our Terms of Use.