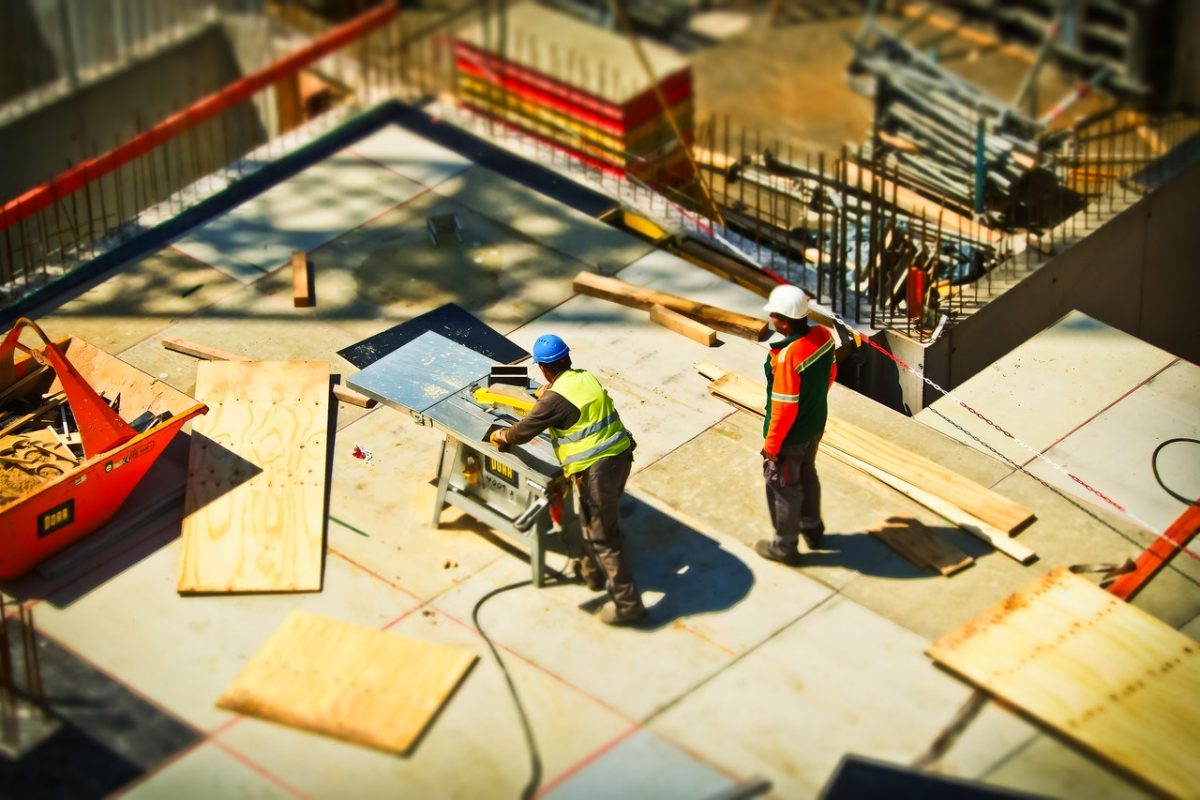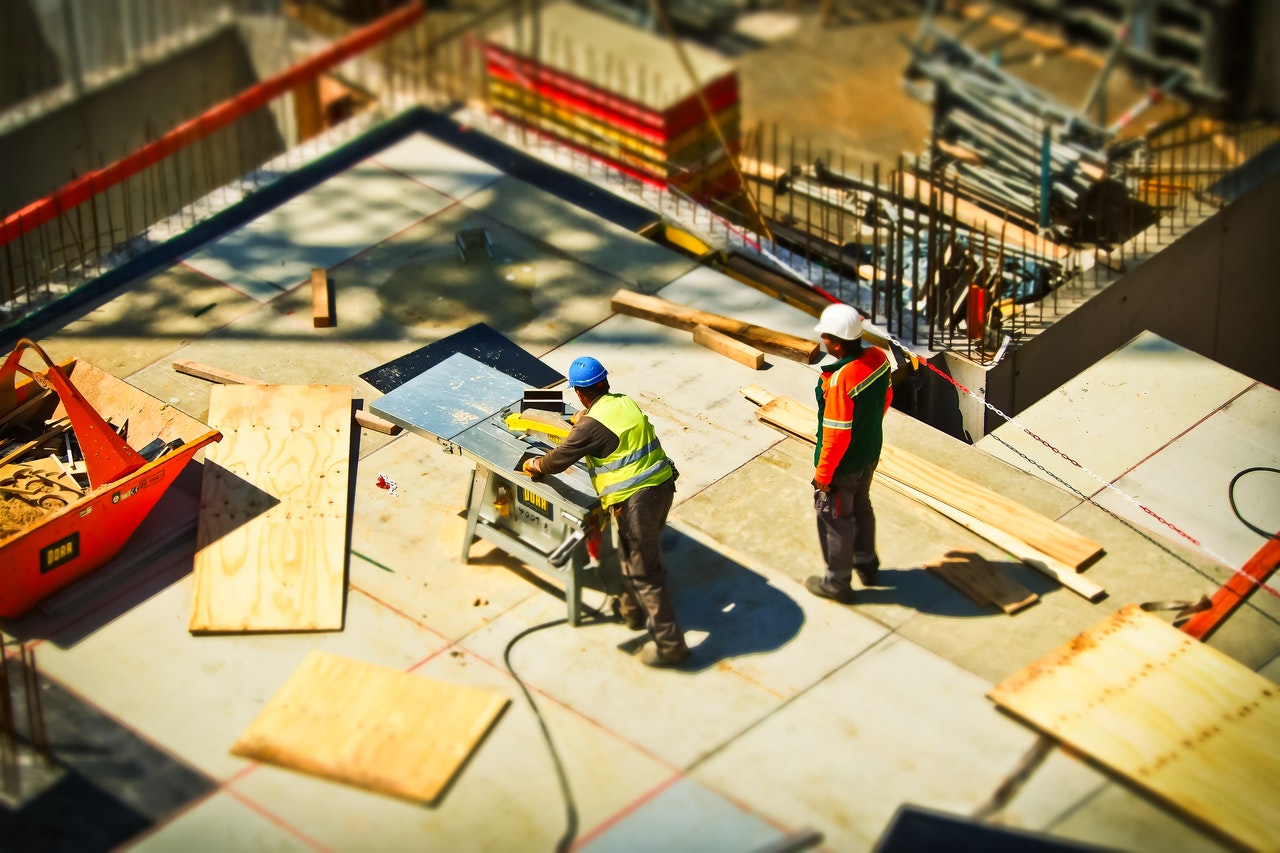 Every month, 178 million people use Yelp to find businesses near them. These are people who are ready to do business and are easy to attract and retain as customers.
From our experience, we'll show you how to take advantage of this to
Activate exponential growth by optimizing your profile for high Yelp rankings,

Generate over 2000% ROI via Yelp Ads 

Give your business a more efficient internet presence that constantly brings in new customers
Let's get started and make you one of the top contractors making a killing on Yelp.
Why does a Contractor Need Yelp?
Yelp has over 100 Million visitors/month going to their website. They also rank on the first page of Google in virtually every vertical and every city in the home service industry. Ranking well in Yelp will almost guarantee you to get visibility from the users looking for the services that you offer.  
Our clients make 6 figures in revenue per month consistently running Yelp Ads and the ROI is incredible. 
How to Set Up Yelp for Contractors
Here are some pointers to help you set up quickly, so you can skip over to boosting your competitive advantage.
Step 1: Claim or Create Your Yelp Business Page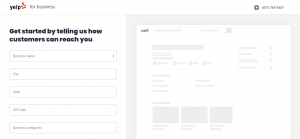 To create a new Yelp Business page:
Visit

Yelp for business

Input the required information about your business

Click "Add business" and wait for the approval—it typically takes 1-2 days
Follow these steps to claim a Business page that already exists on Yelp:
Click "Manage my free listing"

here

Search for your business

Follow the steps and claim your business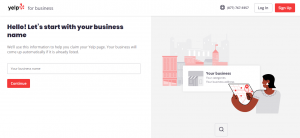 Step 2: Build Your Business Profile
For a lot of people, this will be their first interaction with your brand. So you'll want to make a great impression.
Make sure the information on your page is accurate. Especially contact and location information. If customers can't reach out to you for business, that defeats the purpose of being on Yelp.
Fill in as many fields as possible to give your business ample room to attract trust. Plus, this helps your Yelp rankings too. Add your hours of operation, rates, detailed specialties, etc.
Add high-quality relevant pictures of your business. Use this opportunity to showcase your brand, including amazing samples of your finished work.
Step 3: Get Reviews
Yelp is famous (and infamous, depending on who you ask) for the reviews posted on the site. In your climb to the top of Yelp rankings, the reviews you get are going to be a major factor.
While sometimes reviews can be an amazing business ally (especially when you're rated above 3.5 stars), it could be an ugly poison if you've gotten mostly bad reviews putting your business in the 1- to 2-star range.
How to Get Yelp Reviews from Customers
There are several innovative ways to get reviews for your contractor business while sticking to Yelp's rules.
In summary, you cannot ask for reviews. What you can do, however, is attract them. For example, you can:
Feature a Yelp sticker in your brick-n-mortar location that lets people know you're on Yelp (

Request a Yelp sticker here

)

Put a Yelp badge on

your website

, email newsletter, and social media pages

Respond to your reviews and show you're active to welcome more reviews
Feature positive reviews on customer-facing locations in your place of business
Delight your customers with excellent service delivery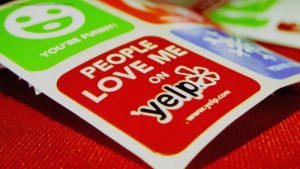 Source: Search Engine Land
Don't offer any incentives like discounts or coupons in exchange for a review. Also, don't buy Yelp reviews. This violates your agreement with Yelp.
How to Optimize for High Organic Yelp Rankings
To win with Yelp, you have to appear at the top of searches when yelpers search in your category and city. You can run an ad for this or you can organically rise to the top. There's always the option to do both.
Let's show you how you can take your contractor business page on Yelp to the top of search results in your city.
What's even better? These results can boost your rankings on Google and Bing as well.
1. Complete Your Business Profile
A business page without sufficient information like accurate location, open hours, etc., makes it harder for the user to make a decision.
To be in Yelp's good books, fill out your business profile with up-to-date and accurate info. If your information is inaccurate, it can lead to bad experiences for the customer. The customer can take their displeasure to yelp where they found you and leave a bad review.
Bad reviews can drop your rankings or, in worse cases, get you delisted.
If your information changes later, remember to always make that change on your business profile.
Also, if it is available in your local or home service category, consider creating a Yelp portfolio. Yelp portfolio is a paid feature that helps you showcase what you do with pictures and additional information.
Yelp users can use this to assess your quality of work and be more confident to do business with you.
2. Be Careful with Your Yelp Categories
When you create or claim your business page on Yelp, you get to pick 3 categories for your business. This could be electronics repair, handyman, HVAC, office cleaning, and many more.
You may be tempted to fill up all 3 categories so that you appear in more searches. But if your business is not relevant to that category, it'll get you lower rankings. This is not good for the general outlook of your profile in the eyes of Yelp's algorithm.
Use categories that fit your business perfectly. You can look at your top-ranking competitors and find what categories they're using. And you can also contact a Yelp rep for advice.
3. Add High-quality Relevant Pictures
Adding pictures gets you more visibility and earns you more trust.
Adding high-quality relevant images makes it even better.
The quality of the pictures on your profile is a reflection of how great your service will be. Also, it is easier for users to understand what you do and see if you're a great fit. That way you attract high-quality leads with strong intentions to do business with you.
Use this opportunity to showcase your business's strong points. Is your building newly renovated? Post the picture. Do you have a nice cozy reception area? Show it off. Did you host an event recently? Let them see the best bit of the event.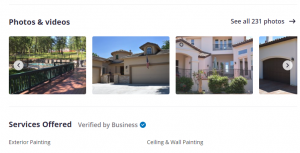 Show your staff working on a project. Display pictures of team members smiling and waving. Present awesome samples of your finished work. Anything to position your business as positive and welcoming.
4. Keep Your Page Updated and Respond to Reviews in a Timely Manner
You don't want your Yelp page to sit and gather dust. That gives Yelp the impression that you won't respond quickly to users. And they're all about pleasing the users.
To keep your page active:
Constantly update your page with fresh information

Respond to reviews on time

Make announcements

Post deals, offers, or promos
Yelp ranks active profiles higher. You can set up a few minutes daily or alternating days to keep your page active.
5. Optimize Your Keywords for Yelp SEO
You may be wondering what Yelp has to do with SEO. There are actually strategic ways you can use keywords from your SEO strategy to make your Yelp page rank higher in searches.
In the business information, owner/employee profiles, and business history, you can use your keywords there in a natural way to tap some SEO juice. Also, naturally, the words users include in genuine reviews of your business will add more optimization energy to your page.
Don't stuff your page with keywords, though. If it doesn't sound like something a human will say, delete it.
When you upload your images, change the title from the default to something relevant in the picture that can also help your SEO. Don't use a keyword to name a picture. Keep it within 3-5 words long.
For example, when uploading a picture of your landscaping team working in a client's backyard, you can name it "landscaping team working backyard.jpg".
Also, if you have Yelp portfolios set up, you can use the description part to tell a story that also carries your keywords.
6. Improve Your Click-through Rate (CTR)
Click-through rate is the number of people who see you listed on the results page compared to those who choose to click on you. The more people who click on your snippet in the search results, the higher your click-through rate.
This signifies to Yelp that, among other results, people choose you. Results that get chosen the most are steadily ranked higher and higher.
The good news is that you can improve your CTR by making your result more attractive.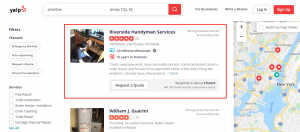 Valuable real estate on Yelp search results page to use for higher CTR
Obviously, a higher star rating makes you attractive right off the bat. But you can also use your feature image to your advantage here. Instead of featuring a logo, display something relevant to the user. Show your people at work, for example.
You can make it possible for people to request a quote right from the results page. Note that this will display your average response time. So you'll have to respond within 20-30 minutes on average if you want this to work in your favor.
How to Generate Up to 2000% ROI with Yelp Ads
If done properly, Yelp Ads can yield high ROIs. We did it and confirmed this.
It is an excellent way to reach more people looking to do business with you and generate new leads.
How does it work? 
It works the same way as Google and Facebook Ads. You pay and get a certain amount of exposure above your competitors for a certain length of time.
This means a snippet containing your name, star rating, featured image, featured review or specialties, and call-to-action (CTA) gets shown on your competitor pages or at the top of search results in "Sponsored Results".
A CTA is how people get to interact with your business through the ad. This could be a request for an estimate, phone call, message, visit your website, etc.

When done right, your ad will attract views (number of people looking at your ad) and leads (number of people who click on your CTA and interact with your business page).
How to Set Up Yelp Ads
There are two ways to go: Full-service and self-service.
Full-Service
If you've been on Yelp for some time, it's likely Yelp's sales team has already reached out to you with this offer. If they haven't, and you want the full-service option, call them and tell them.
They'll take into consideration your kind of contractor business, what you want, and your budget. This option helps when you need someone else to do most of the work for you.
They have different packages for this: Cost per click (CPC), cost per thousand impressions (CPM), additional features on your Yelp page, or a definite number of impressions per month.
Self-Service
With this option, you can get started quickly without the help of Yelp's sales team. It is more flexible as you can choose to opt-in on the features of the full-service ads that you like. You pay for what you choose.
So, without signing a contract, you can set up your ads with all the terms you want, and run it.
Choosing to either go with self-service or full service depends on your business's unique needs at the time. It may not work the same way for everyone. But most contractors seem to prefer the flexibility of the self-service option.
9 Easy Steps to Set Up Your Custom Targeted Ads on Yelp
Here's how to go about creating a custom targeted ad on Yelp in 9 steps:
Log in

to the desktop version of your Yelp for Business dashboard.

Click on "

Customize Ad

".

Select a goal for the ad campaign:

Yelp offers you 3 options: profile optimization to send more people to your page, get more phone calls, and get more website clicks. As a contractor, you'd want to choose "get more phone calls".

Pick a review and pictures of your business to feature on the ad.

Or you can let Yelp pick for you. You can only adjust the order of photos after the ad goes live when you sign up for Enhanced Profile Upgrade.

Write a custom text for your ad (optional)

. Think of it as your ad copy. It's a great practice to use your best review here instead.

Choose your keywords strategically:

Yelp gives you two sets of keywords: where your ad will appear and where it won't. If you see a keyword that won't bring you the right kind of customer under "Your ad will appear in", remove it.

Choose the targeting radius (optional).

Yelp will automatically pick one for you but you can adjust it to a 10-, 15-, or 25-mile radius.

Set your budget and add your billing information

. Also, you can opt for page upgrades to make your ad more efficient.

Finally, click "

Publish changes

" to launch your ad.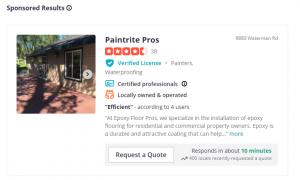 Pro Tips for High ROIs with Yelp Ads
Use these proven tips to make the most out of Yelp advertising:
Time your ad perfectly:

You know your business the best. You know when demand for your services goes up. See what we did with the HVAC ad? We waited for summer when it's the high season for HVAC services to run the ad.

Put your best image out there:

Go with high-resolution images and videos that portrays your brand in the best way possible. High-quality brand visuals are often associated with high-quality services.

Be sure your profile is attractive enough:

If your rating is poor on Yelp (2-stars and less), it's best not to invest money into Yelp Ads. People will still make their choice based on the reviews you have. They will still charge you for the exposure, even if it doesn't bring in business.

If in doubt, ask for help:

You don't have to go full DIY on your Yelp ads, especially when so much money is involved. You can call an expert to help you out or reach out to Yelp's sales reps.
What is the Cost of Yelp Advertising?
Yelp pricing starts low in the cents and rises to thousands of dollars when you opt for a full-service ad option or run your custom ad for an extended time.
Here's a quick summary of Yelp costs:
| | |
| --- | --- |
| Ad | Price |
| CTA button | $1/day |
| Remove competitor ads from your business page | $1/day |
| Enable enhanced slideshow | $1/day |
| Cost per click ad (CPC) | $0.30 – $40 |
| Cost per thousand impressions (CPM) | $600 average |
| Special deals/offers | 30% commission |
| Gift certificates | 10% commission |
How to Track Your Yelp Ad Campaign
You can track important metrics when you run an ad campaign—no matter which one you opted for. You can see the actions people take on your Yelp page including CTA clicks, website link clicks, calls, etc.
These are significantly detailed improvements on the free metrics everyone else is allowed to view about their business page. They are charts and graphs that are easy to understand and track, so you know when you're getting value for your money.
How We Generated Over $200,000 of Tracked Income from a $10,000 Ad Budget on Yelp
Last year, one of our clients, an HVAC company, was looking to keep their technicians busy during the summer.
This is the high season for HVAC businesses. So, they wanted to seize the opportunity.
Yelp was one of the main lead channels for them, but they'd never taken the time to set it up properly and analyze.
That's where we came in — to launch a Yelp ad campaign. We started by optimizing the Yelp profile of the business. We added high-quality relevant pictures and made sure they had sufficient reviews.
Next, we tested different copies and CTAs along with various budgets until we hit our sweet spot.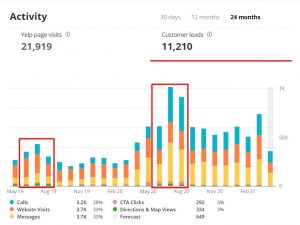 Yelp page stats for the summer of 2020
Based on the results of the A/B tests we ran, we created the ideal ad with the best-performing CTA and images. Then, we launched it with the most efficient budget.
It's important to note that we kept the response time low so that the customers would click on the ad with confidence. This also got Yelp's algorithm pushing the listing higher up the ranks.
While the ad was running, we tracked the leads and income via Service Titan and Yelp's dashboard insights. We kept a detailed report with expenses, leads, CPC, and CPL.

ROI
As a result, we could keep the technicians busy for the whole summer with the leads we got and boosted brand awareness.
In the end, we spent $10,000 in total on the ads during this time. And we got high-quality leads that led to $200,000 worth of contracts. That's a 2000% ROI.
FAQ
How can I get more positive Yelp reviews?
Yelp guidelines make it clear that you cannot ask for reviews. What you can do is give the heads up. Yelp stickers can do the job, but you can also say, "Hey, you know you can find us on Yelp?"
Also place badges on your website, email newsletters, and social media so your customers know they can find you on Yelp. Then they're going to leave a positive review if you match this with great service delivery.
How do I use keywords to optimize my Yelp page?
Use keywords when filling the information on your business profile in natural-sounding ways. If it doesn't sound natural, take it off. You want to optimize for humans as much as you do for search engines. Also, name your pictures appropriately before uploading them to Yelp.
How can I get Yelp Badges?
On your Yelp business account, click "review badges". Next, copy the code you're given and paste it on your website.
How can I add multiple locations on my Yelp page?
Yelp allows you to have different pages for the different locations of your business all tied to one Yelp business account.
Once you've created or claimed one page on Yelp, go to your account settings and scroll to "additional options". Click on "Add another location". It will take 2 days or sooner to get the new pages of the different locations approved.
Can I add more than 3 categories on Yelp?
No, Yelp doesn't allow more than 3 categories. According to them, your categories should be "as specific as possible and describe the primary activities of the business rather than the entire scope of the business's activity."
Key Takeaways
Yelp is the most popular business review site that connects businesses to customers. To make the platform work to drive your business goals, you should:
Claim or create a business page

Complete your business profile with accurate information

Manage your reviews smartly

Optimize for high rankings on Yelp search results pages

Use Yelp Ads properly to record high ROI
If you enjoyed this article, join our private Facebook group. We share more valuable content and actionable tips to help you succeed in your internet marketing efforts for your contractor business.
Now your turn:
What's the first thing you plan to do to make your Yelp profile rank higher today?

Or: What did we miss? Tell us from your experience one thing you do to optimize your Yelp business page for success. We will feature the best tips in future updates of the article.
Liked this article? Here's what you should do next
Join our Private Facebook Group to get access to our ebook Marketing Hacks for the Wealthy Contractor. This ebook is the blueprint we use to generate over $1 Million in revenue for our contractor clients consistently.
Follow our LinkedIn Page, Twitter or Instagram
If you know another contractor who'd enjoy reading this page, share it with them.
If you'd like us to take your business to the next level then contact us for a free marketing strategy assessment.