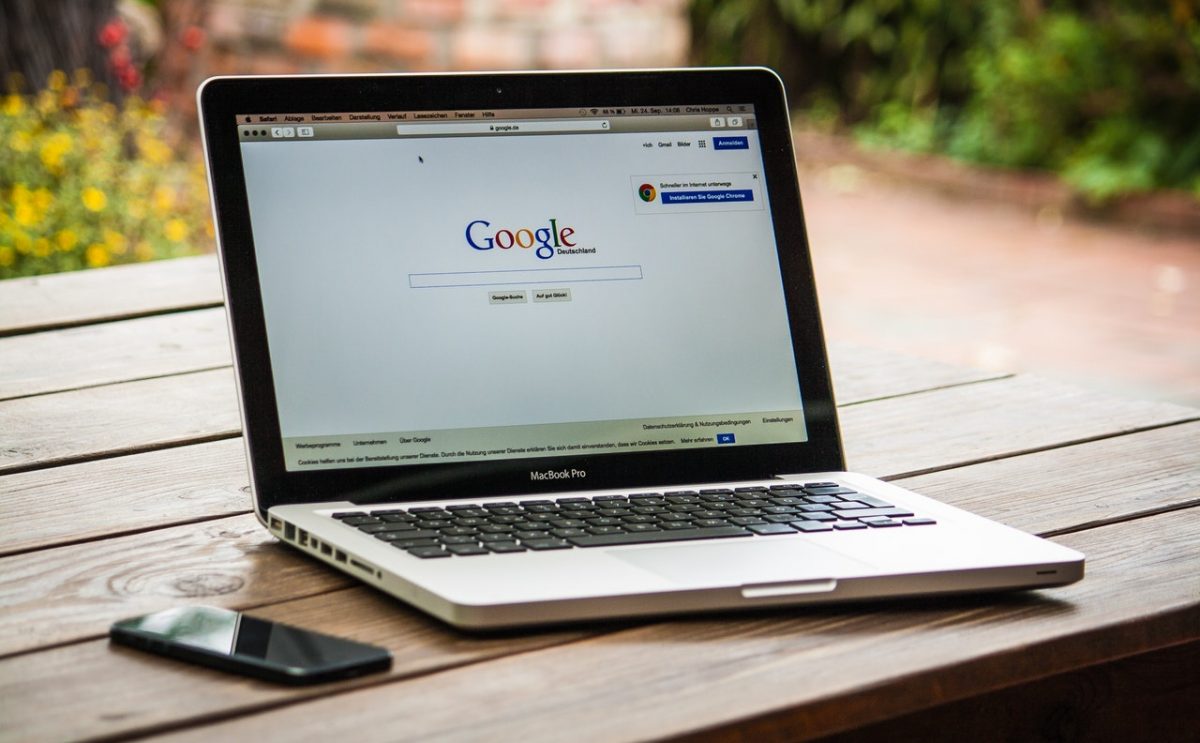 If you run a local home services business, be it a plumbing, HVAC, or roofing company, you might have already heard about Google My Business (GMB) listing and its importance. Companies that provide their services in a particular locale are often utilizing GMB as one of the key ways to generate leads and establish their online presence. 
If you are not aware of what Google My Business is, don't sweat – in this article, we'll talk about what it is, what are the benefits of having a fully optimized Google My Business listing, and how you can dominate your local area for the desired searches. We'll walk you through the crucial steps that you need to take in order for your business to attract just the right kind of leads in your targeted area of service.
What you will learn:
After reading this article,
Be well-equipped to optimize your Google My Business profile with the best practices in mind. 

Know which exact fields you need to fill out and what crucial details to keep in mind while completing your profile. 

Learn how to attract reviews to your GMB listing and how to keep your customers engaged. 

Most importantly, you will be able to improve your GMB rankings and attract the right leads in your area. 
What is Google My Business and Why Is It Important?
First things first, being a home services company, local search engine optimization (SEO) strategy should be one of the first things you look into when working on your digital marketing strategy. Considering the fact that your clients are located in a specific area, you need to take advantage of marketing strategies that will allow your business to be discovered locally.
One of the key components of a successful local SEO strategy is a well-optimized and regularly maintained Google My Business (GMB) Listing. 
GMB is a very powerful online listing that displays the key information about your business and presents it in one single snapshot. Thanks to this snapshot, your potential customers can quickly grasp the information about your business (how reliable it is, where it is located, and what services you provide) and find ways to contact you. 
Getting your business listed on GMB does not only increase your chances of showing up when residents in your area search for phrases relevant to your business (e.g.: "plumbers phoenix") but also helps you grow your brand awareness and establish authority in the field. 
By listing your business on GMB and optimizing it with the best practices in mind, you are opening a whole new channel of generating leads. According to a Google study about understanding local search consumer behaviour, "50% of consumers who conducted a local search on their smartphone visited a store within a day, and 34% who searched on computer/tablet did the same." 
This means that when people are searching for "service+city" or simply "service" on their devices, half of them were in need of that service immediately. By getting your business in front of their eyes you can substantially increase the number of leads you are getting.
GMB listing is a free and relatively easy way of getting your business in front of your potential customers, but there are certain things that you need to keep in mind when claiming and optimizing your listing – we will talk about these things in this article. 
If you already have a GMB listing, and you have claimed it—great! The next step is to properly optimize it and continuously monitor and maintain it. 
Optimizing Your Google My Business Listing 101
As we mentioned before, simply claiming your GMB listing won't do it—to make sure your listing shows up for relevant keywords in the top positions and, at the same time, converts users to paying customers, you need to fully optimize your listing. 
What is considered an optimized Google My Business listing?
When we talk about "properly" optimized GMB listing, we mean the following:
Listing should be fully filled out
It is crucial to fill out all the possible details of the business, including location, description, categories, services, hours of operation, online service hours, special hours, phone number, website, appointment links, attributes, opening date and any other additional information that can be specific for your business.
Listing should have lots of photos and videos
It is very important that your listing has photos of your storefront (if you have a store), your team, your office, your products/appliances, etc. Videos are also very important. We will talk about this a bit later in the article.
Listing should have regular GMB posts going out on a weekly basis minimum

 
We will explore this a bit more in detail as well.
Listing should have a steady flow of reviews to build trust with your clients
We will show you how to do that, too. 
Now, how does a fully optimized GMB listing look like? 
Take a look at this screenshot and note how the company provides as much information as possible to a client to a point where the client is convinced that the company is legit and reliable, they know where the company is located and they even know what the prices are – the only thing that's left is to call and book the service.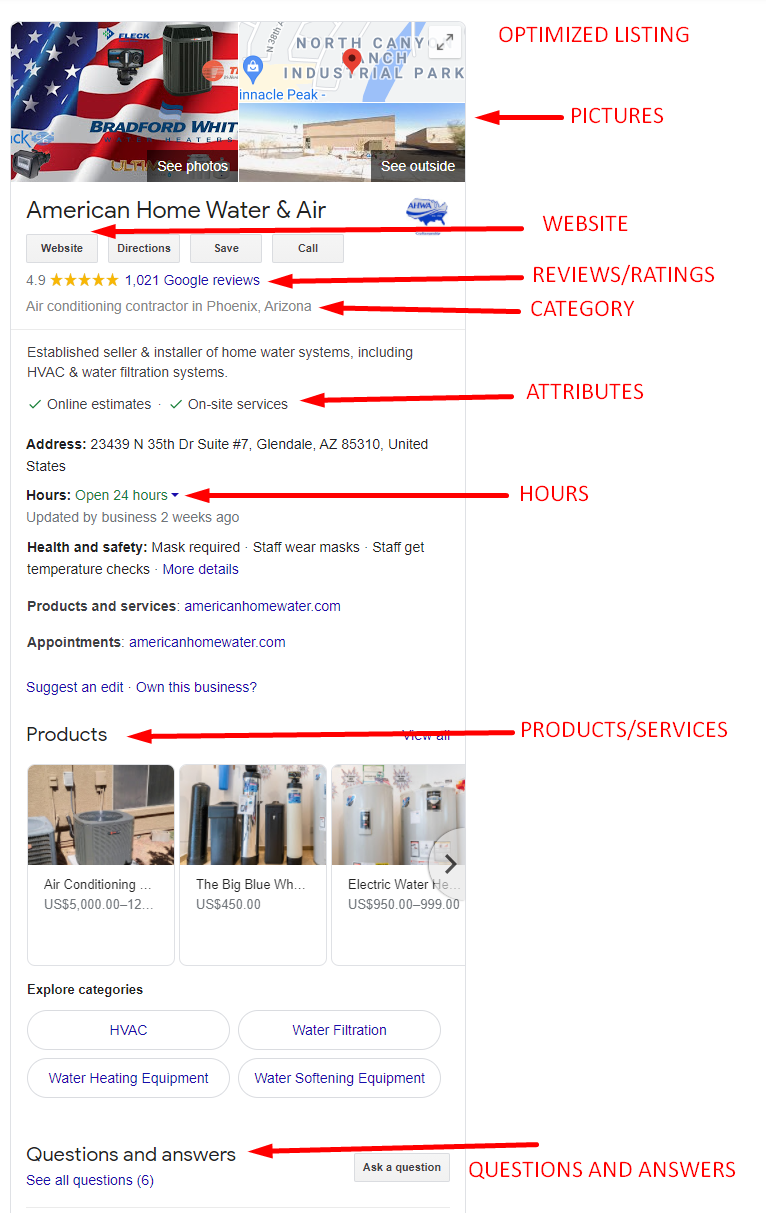 Now, when you have a better understanding of what an optimized GMB listing is, here are the proven tips that have worked for all our clients we work within the home service industry and beyond.
Set up and Claim your Business Profile
The first step to getting your GMB listing operational is to ensure you don't already have one. This can easily be confirmed by the search feature on GMB. Check out the video below that explains how to do that.
<iframe width="560″ height="315″ src="https://www.youtube.com/embed/7psoewRs6zI" title="YouTube video player" frameborder="0″ allow="accelerometer; autoplay; clipboard-write; encrypted-media; gyroscope; picture-in-picture" allowfullscreen></iframe>
In case you already have an account, especially if your business has been around for many years, you need to claim it before trying to optimize it. If you don't have a GMB listing, you can set it up following a few simple steps – Google will walk you through a number of questions that you need to answer. 
Take a note that verification of your business can take up to a week (might be up to three weeks considering the COVID-19 limitations). Once the verification is done, you will be able to take full advantage of the GMB listing.
Add Your Information – Complete Every Section, Be Accurate, and Up To Date 
Completing all sections of the GMB listing is a must if you want your listing to show up in front of your potential customers.
Why?
Because Google gives priority to fully completed listings, as they are satisfying the search intent much better than listings that only have their phone number showing. For instance, if we think about this from the point of view of our potential customers, we would be more inclined to click on a listing that has reviews, photos, and services with prices in comparison to the listing with very little information about it. 
When you are logged in to your GMB account, you will see a number of sections on the left-hand side. These are the sections you'd need to fill out and optimize. The very first one, and one of the most important ones is "Info". Once you click on it, you will see a number of options you can fill out:
Make sure to use the official name of the business. Do not add any additional information to your business name, and, of course, double-check the spelling. This has to match your business name on your website and on any other local directories that you might already have. 
Category (primary and additional)
When it comes to choosing a category, you have the chance to choose one primary and several (up to 9) additional categories. Choosing your primary category is one of the most important decisions you can make when filling out your GMB listing. Typically, it is very straightforward – start searching for whatever service/product you mostly provide to your clients in the search bar and you will see a number of options – choose the most appropriate one or the one that is as specific as possible.
When it comes to choosing additional categories, you have to exercise caution – more is not always better. Why?
By adding a lot of additional categories, you are risking to attract leads that are not relevant. 
For instance, let's say that you are mostly providing plumbing services, including water softeners and water heaters – you'd choose this (Plumber) as a primary category. In additional categories, you might be tempted to choose some extra options, such as "water filter supplier", which can be somewhat related to what you do, but you are not exactly supplying water filters. So, if you were to choose "water filter supplier" to be your additional category and your business would show up for this category, it's very rare that your business listing would be actually clicked, as it would not satisfy the clients' search intent. 
The golden rule whenever choosing additional categories is to keep them between 1-3 and make sure that this is a big part of your business. Again, Google verifies all the information, so be accurate.
Service areas is a very important field to fill out and here is the perfect place to list all the cities that your company is servicing. By adding a city to the service area field, you are letting Google know that your company is ready to service customers in these cities and this is where your listing will be showing up. For example, if you provide plumbing services, and you choose "Phoenix, AZ" as your service area, your listing can show up whenever residents in Phoenix search for "plumbing services". 
Do not include cities that you are planning to service in the future, as this will decrease the accuracy and overall quality of your GMB listing. You can add the cities later on, when you will be ready to send your techs to those regions.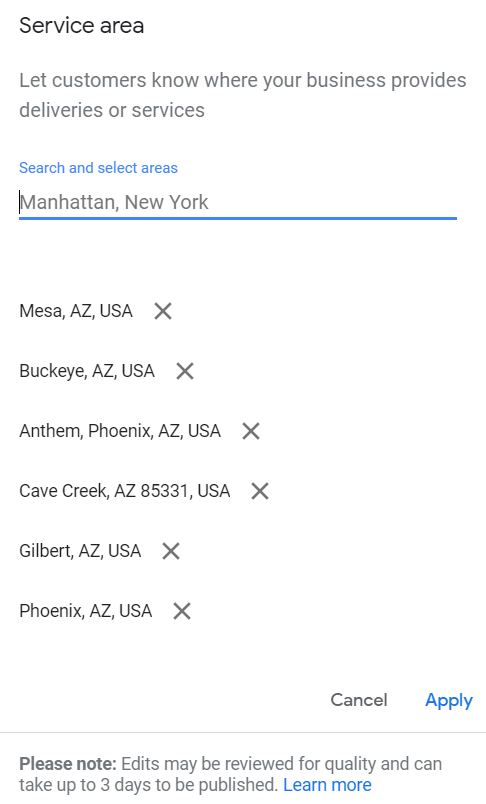 Business location is yet another crucial point in optimizing your GMB listing. Ideally, you'd want your business to be situated in the center of the city that you primarily serve. If you have an opportunity to register/open an office in the center of the city, this will definitely pay off in the long run, as Google tends to favour centrally – located businesses whenever showing results for "city+service" keywords. 
Yet, if there is no chance you can do that – don't sweat, our other optimization tricks will help your business show up on GMB results. One final tip for the business location is to make sure that your location is accurate and consistent throughout your listing, your website, and other local directories you might have. 
According to Brian Dean, "When your local business has one address listed in their GMB and another on the website, that's a huge red flag to Google."
Hours of operation give your potential customers a chance to understand whether you are open for business on weekends and holidays. It is extremely important to list your hours as accurately as possible and always update your special hours, letting your customers know whether you are open or closed on certain days (Christmas Eve, Mother's day, etc). 
The trick here is to always keep an eye out for the upcoming holidays and update your listing.
The business description is one of the key places you can use to target the "money" keywords. However, it is very important not to overdo it – keep your clients in mind and highlight the best things about your business.
Veteran-owned? Make sure to mention it. 
In business for more than 20 years? Your customers will surely love this. 
Use your keywords ("city+service) wisely and naturally, do not overstuff your description. Before you get into writing your business description, make sure to read over Google's business description guidelines so you understand what you can, and cannot, include. To optimize this section of your GMB profile:
Focus on high-value keywords 

Let the customers know what makes you unique

Limit your description to 750 characters 

Do not include any links (URLs) or HTML codes
See this video from Google on how to adjust your business hours & description.
<iframe width="560″ height="315″ src="https://www.youtube.com/embed/brpUCL7BrTE" title="YouTube video player" frameborder="0″ allow="accelerometer; autoplay; clipboard-write; encrypted-media; gyroscope; picture-in-picture" allowfullscreen></iframe>
It's very straightforward – you just need to provide your phone number that is used by your business to receive client calls. Make sure it is exactly the same number as listed on your website and on other local directories since NAP (name, address, phone number) consistency is one of the most important factors in determining your local SEO strategy success.
Here, you'd provide a link to your website if you have one. It's highly recommended to have a website if you run a local home services business, as it will allow you to establish an online presence, attract relevant traffic, and capture leads online. 
Having a fully-optimized website also allows your to increase your organic reach and helps your business to act as an authority in the niche. If you need any help with developing and designing your website, let us know. 
According to Google, "Your short name should be associated with your business name or the most common name people call your business. We recommend you include your location to make the short name more distinct. You can use your business name with your city or neighbourhood. For example: "javierscrabhutdallas." 
You can optimize your BMG profile further and improve customer engagement by adding products and services to rank for applicable searches. To take full advantage of this feature, add relevant details including an image name, description, and pricing.
The key here is to write for the user, not for search engines – do not overstuff your description with keywords, keep it nice and short, and dont forget to highlight the benefits for your clients. 
Listing the price is yet another amazing trick that can increase the number of conversions you get from the GMB listing, because people feel more comfortable committing to a phone call once they know whether they can afford your services or not.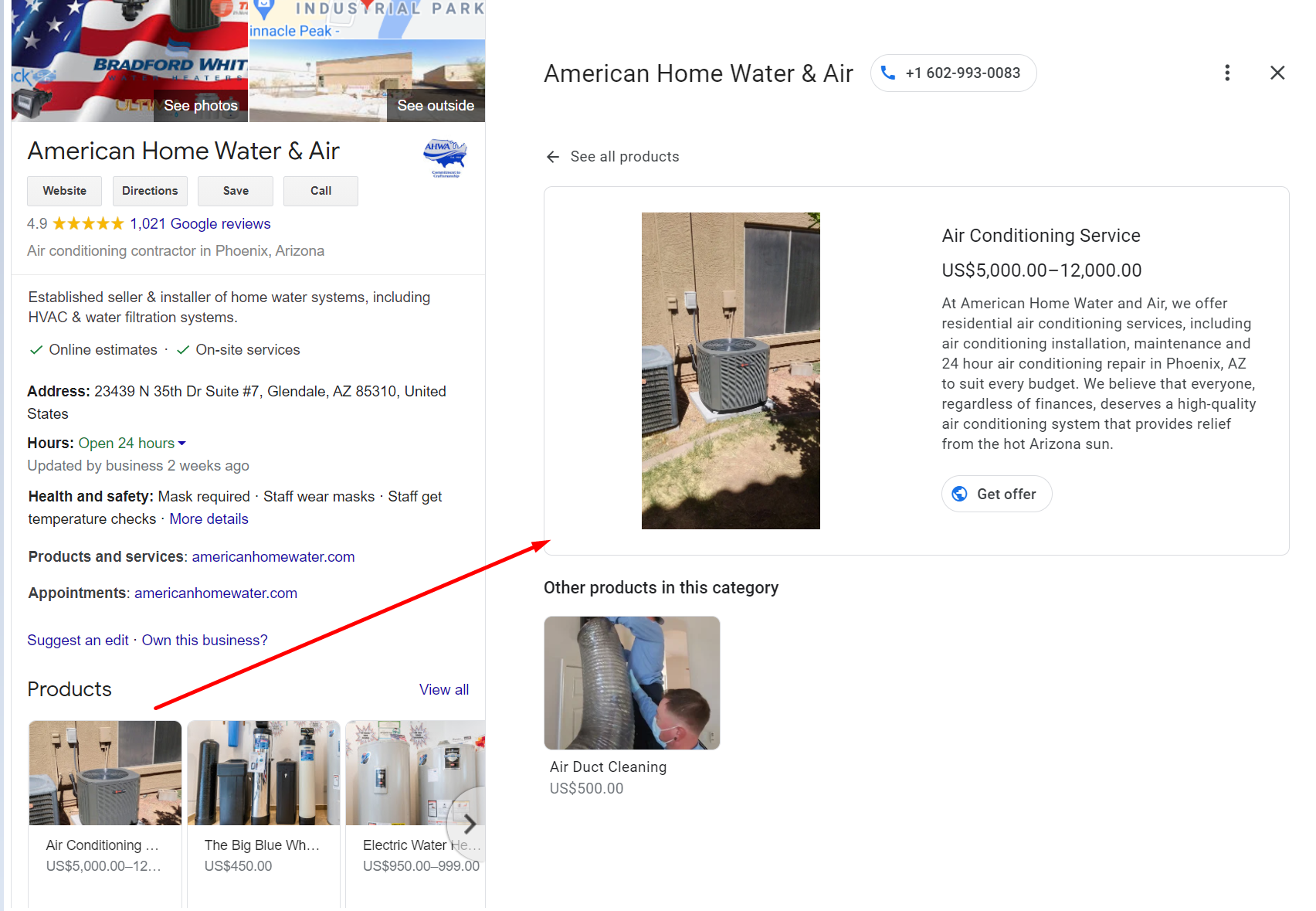 With GMB, you have the option to add other features to describe your business and attract customers. These are known as attributes. They help you optimize your online presence for local search. Attributes can include amenities and/or services available that may benefit the customer, such as free Wi-Fi, wheelchair accessibility, payment methods, Dine-in, Takeout, etc. 
Adding attributes to your GMB listing adds that extra information that might be crucial to some of your customers as well as it is telling Google that you've taken advantage of all the possible fields it offers.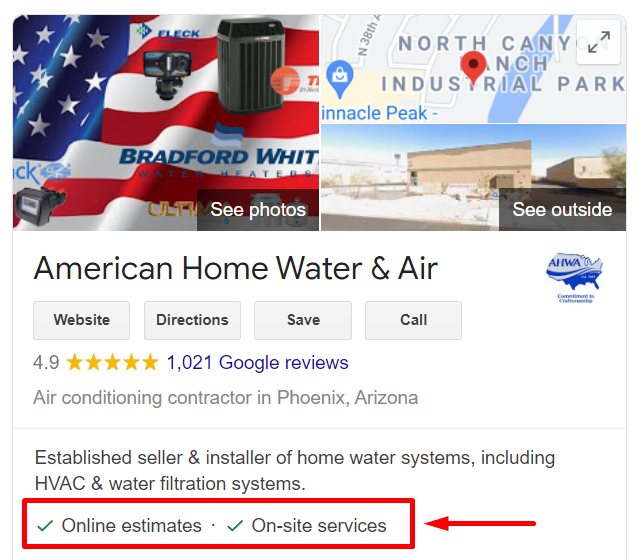 Sharing photos and videos of your business and those tagged by your customers is an easy and effective way to increase engagement and traffic to your website and place of business.
To take full advantage of this feature, ensure high resolution, good-quality pictures and upload new pictures frequently – do not use stock photos. Photos help Google differentiate your business and therefore should represent your brand.  
As one of the tricks here, we recommend taking high-quality photos of your office, showroom, or store (if you have one). Make sure to also take pictures of your staff and the work they've done – the before and after pictures or pictures of installation work magic on GMB. Why?
Potential customers want to know what they are dealing with before picking up the phone and calling your business. By providing those pictures, you will reassure them that they are making the right decision. 
The same goes for high-quality videos. It cannot be overstated how much of a difference a great video can make – take videos of your staff working on projects or just take a video of your office/showroom. All these elements are removing the "anxiety" element of decision-making that customers are often struggling with.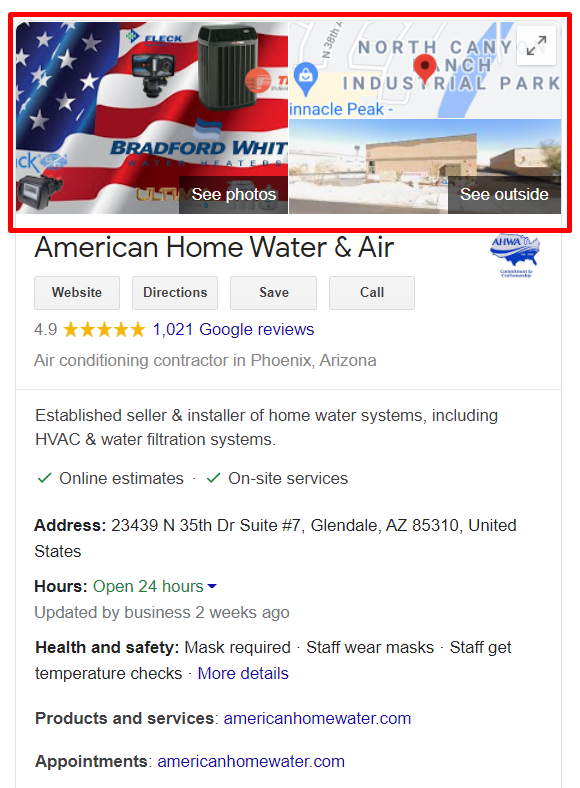 Take Advantage of Posts, Special Offers or Deals 
This easy-to-implement technique is often ignored by businesses – and, in fact, they are missing out on a lot of opportunities to increase their reach and improve conversions. 
How do posts work on GMB?
Posts and special offers show up in the updates section. It helps you stay connected with the audience and keeps your presence relevant and fresh—all available to them on your GMB profile. If leveraged correctly, by posting regularly and including CTAs, customers have the option to follow your Business Profile and receive notifications of any new updates and deals. 
Keeping this section maintained is essential as most deals/offers, and some posts, have a limited time relevance and are removed after some time. 
We recommend posting on GMB at least once a week, always linking back to your site (either a home page, or a particular landing page that you'd like your customers to land on). Make sure to keep your posts engaging and state clearly what the clients will get if they land on the page you are sending them to.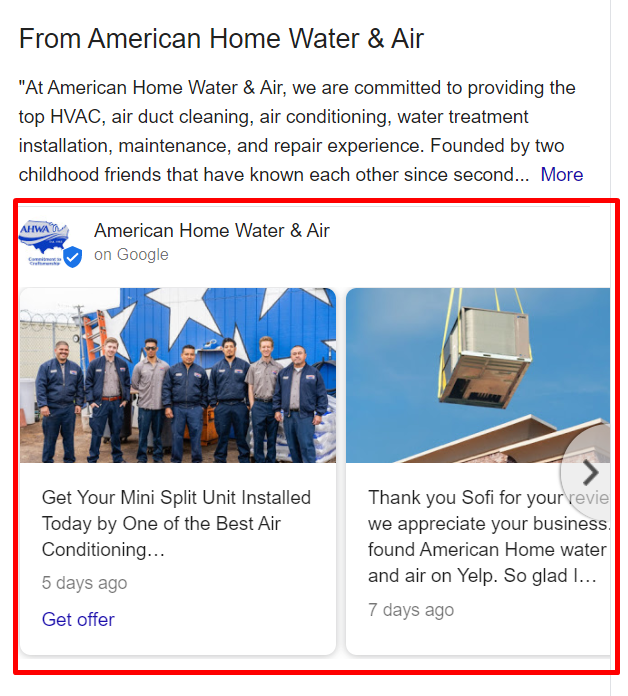 A good example of a post would be inviting your clients to check out the new service you provide by offering them a discount (GMB also allows you to incorporate a promocode in posts).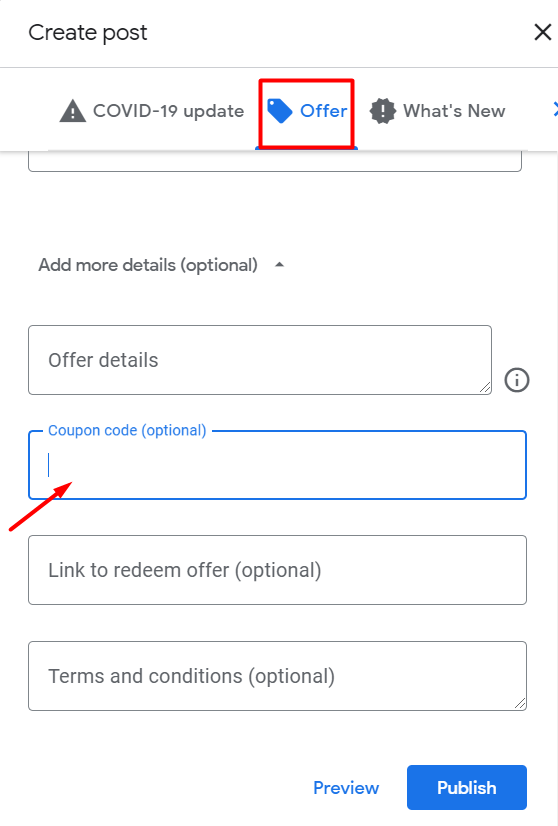 Reviews on GMB: Get More, Answer Them All
Reviews play a huge role in the success of your GMB listing. Good reviews reduce the doubt and raise confidence in the customers' purchasing decisions—and Google's ranking algorithm accounts for that. This is why, for the majority of the searches, Google displays results for those with high star ratings and multiple reviews. 
So, how do you get reviews for your business? It's simple! All you need to do is ask your customers—in fact, Google encourages this. To optimize your profile with reviews you need to reach out to your customers, include a review section on your website, and most importantly, respond to customer feedback to engage with your customers. This helps increase trust in your business for current and prospective customers and improves your local SEO. 
To increase the chances of your clients leaving a review on your GMB, instruct your technicians to ask for a review once they finish the job and also take advantage of tools (such as Podium) that allow you to send an SMS with a review link to your customers once technician leaves their house. 
One of the key reasons people rarely leave reviews is the number of actions they need to do before they can leave a review: they need to find your company online, find your GMB listing, and then type in the review. By sending them the review link right away, you are removing all the friction and simplifying the process for them – they can just click the desired number of stars and that's it!
Another very important point that needs to be taken into consideration when it comes to GMB reviews is that replying to positive and negative reviews is a must. Ideally, reviews should be replied to by "business owner" and should be timely and engaging. Make sure to address and thank the customer for their business and let them know that your looking forward to working with them again. 

Replying to negative customer reviews is even more important – do not ever leave a negative review without an answer. By replying to a negative review, you can show that you care about your customers and, most importantly, you can turn the situation around by reaching out directly to the unhappy customer and address their concerns. In most of the cases, they will remove their negative review themselves. One of the companies that does a great job at replying to negative reviews on their GMB is Leaside Plumbing. Take a look at how they take time to apologize to a client and offer a solution to a problem.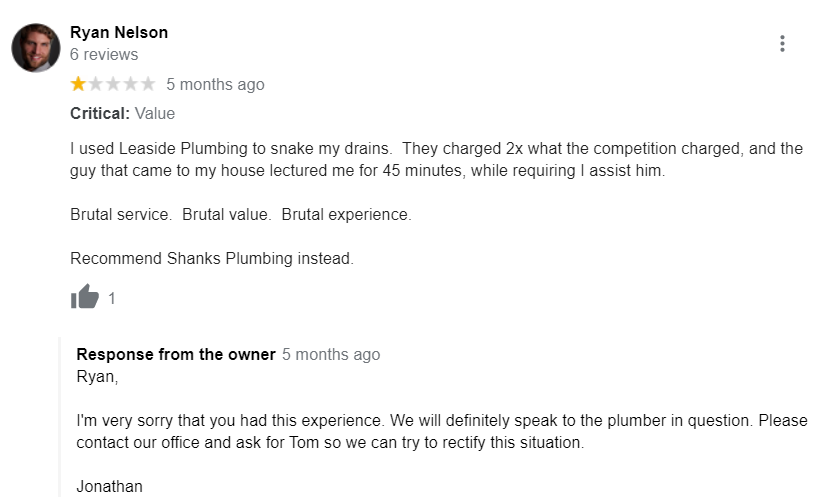 Google even released a new tool that allows you to manage your reviews. Please note that there is a limit to the number of reviews Google will show you with this tool. You can find exactly how to set this tool up here.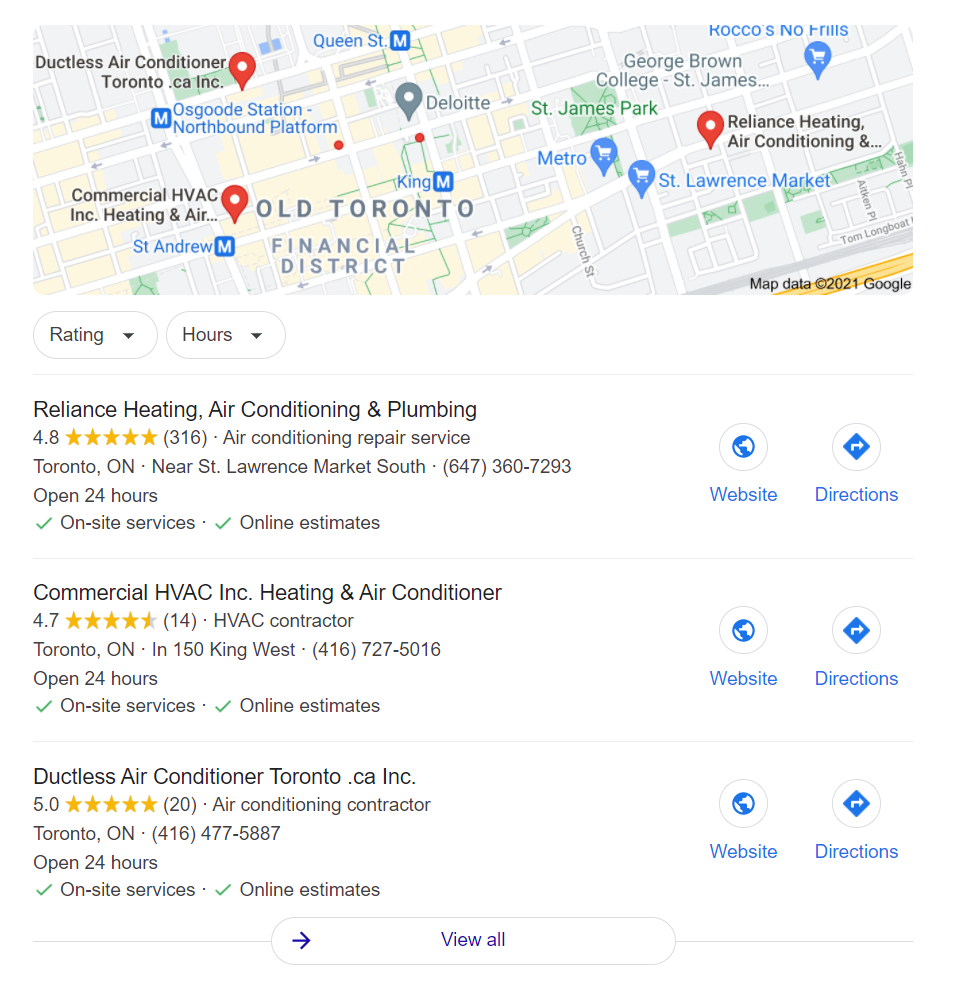 Don't Ignore Questions and Answers Section
Another feature that allows you to highlight important information for your business is the Q&A section for your Google Business Profile. Here, business owners can generate their own queries and provide relevant answers keeping their keyword strategy in mind. 
However, bear in mind that anyone can post answers. Therefore, to optimize this feature to best serve your business interest, turn on notifications so you are fully in control and to keep the information accurate and relevant to your business.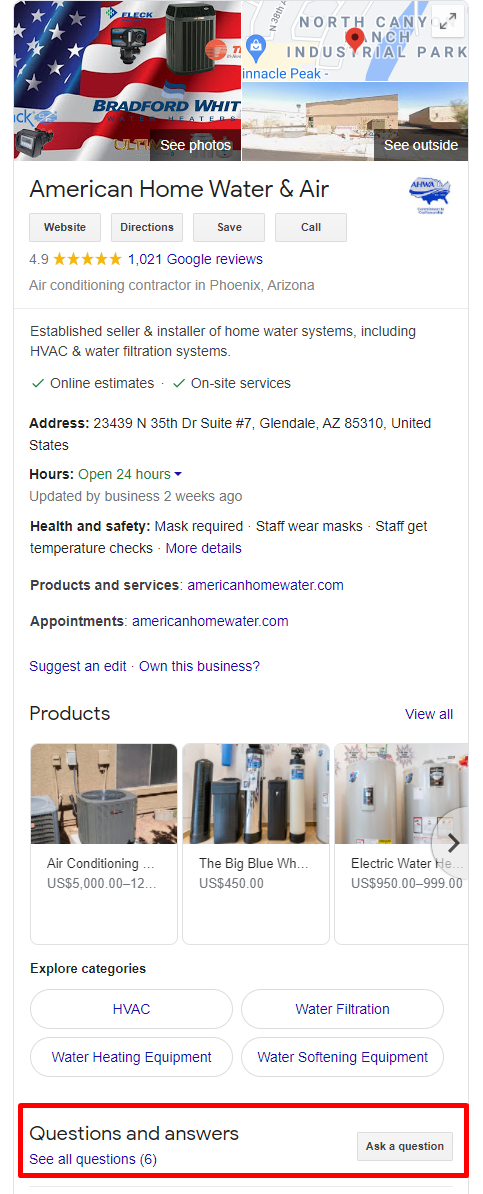 You Can Set Up Messaging To Speak Directly to Your Customers
The GMB messaging feature allows customers and businesses to communicate via text messages or phone.  You can set up alerts for messages, but only do it if you are fully committed to answering your messages promptly. Since customers are looking for the service immediately, they want a timely answer – so make sure you are responding in 20 minutes or less. If you will fail to do so, we suggest disabling this feature to avoid missing leads and hurting you GMB ranking.
If you decide to opt for it, make sure you do not provide or request sensitive information during messaging like credit card information, SS or SIN numbers, login information, etc.  
Summing Up 
As mentioned earlier in this article, the key component of an effective local SEO strategy is a well-optimized and maintained GMB listing. As an extremely powerful local marketing tool, your Google Business Profile requires regular updates to keep it engaging and relevant to search queries based on current social trends and circumstances. This includes:
Keeping your information up to date (address, phone number, etc.)

Publishing posts regularly and keeping the customers abreast of any deals/offers

Monitoring your reviews and Q&A sections closely and responding to the same
If you have any questions regarding any of the tips mentioned in the article or any questions regarding GMB optimization, contact us today or leave a comment down below – we'd love to hear your feedback.
Did you find this article valuable and useful?
Help us spread the knowledge – share it on your social media and tag us, we will be very happy to see that. 
Liked this article? Here's what you should do next
Join our Private Facebook Group to get access to our ebook Marketing Hacks for the Wealthy Contractor. This ebook is the blueprint we use to generate over $1 Million in revenue for our contractor clients consistently.
Follow our LinkedIn Page, Twitter or Instagram
If you know another contractor who'd enjoy reading this page, share it with them.
If you'd like us to take your business to the next level then contact us for a free marketing strategy assessment.