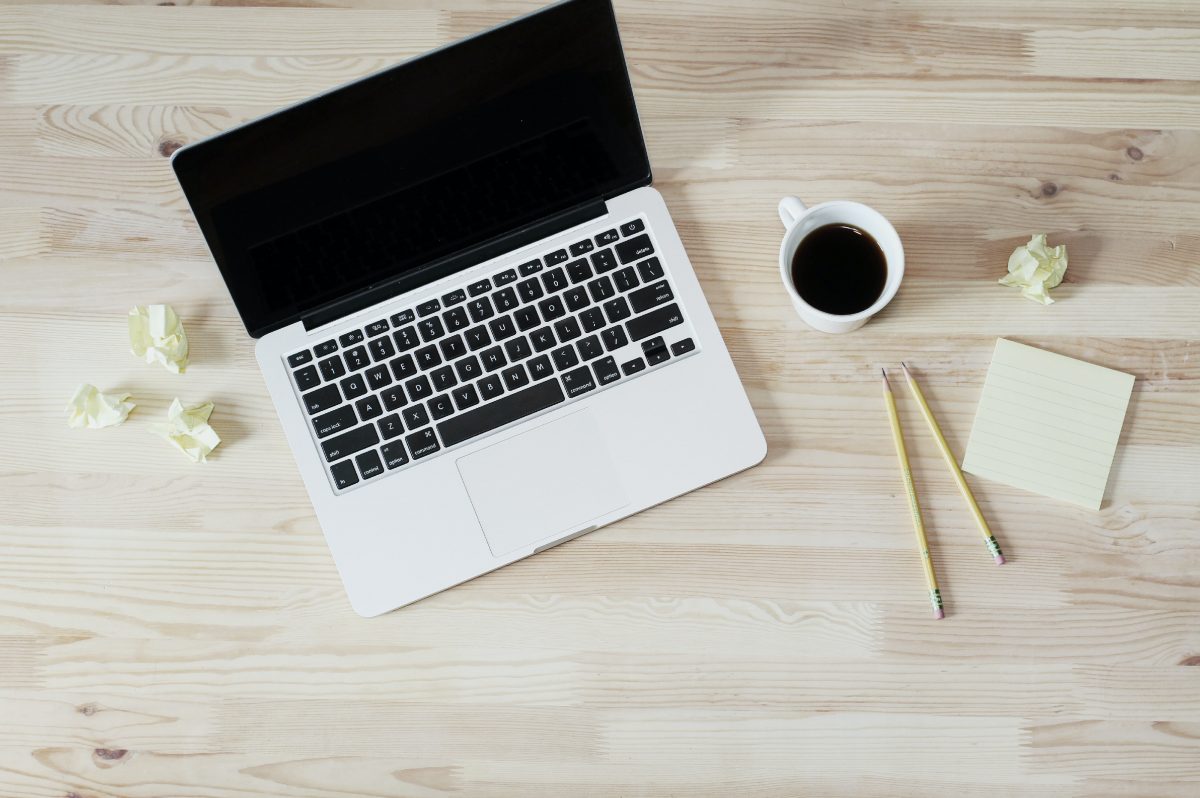 Reviews can change the destiny of any home service business.
A flurry of positive reviews can send high-quality leads to your business, while a negative review not handled correctly can make them go viral.
Research shows, 91% of people read reviews and 84% of people trust online reviews as much as recommendations from friends. So, it's critical that you generate and manage reviews to control what potential clients see.
Read this article until the end to discover why and how you can manage online reviews easily.
In this article, you will learn:
Why reviews are so important for your home service business.
How to develop your review strategy.
Advanced strategies to make your reviews work better.
FAQs about the review generation.
Why are reviews so important for your home service business?
Online reviews magnify your reputation.
They are a low-cost way to generate trust and attract potential clients. The best part is reviews don't demand a significant investment of time, money, and energy from you or your team – unlike other marketing techniques like running local advertisements.
In fact, 82% of consumers would not even consider a business that has less than 3-star ratings.
According to David Mihm, "Reviews create a virtuous cycle. More reviews lead to better visibility, which leads to more customers, which results in more reviews. Quite simply, gathering and encouraging customer reviews is one of the most sustainable marketing techniques your business can engage in."
But that's just the beginning.
Better review management means higher rankings for your business
This is a fact. People are searching for home service businesses online in your area. Search Engines like Google want to show them the best businesses.
If you want your business to be shown in the top 3 local searches (called Local Pack), then it pays to understand how to manage online reviews.
The truth is search engines track signals like a good active Google My Business (GMB) listing. Based on those signals they decide their rankings.
And if your business is doing a better job at sending the right signals, then Search Engines will think that your business should be recommended for a good user experience.
Believe it or not, regular positive reviews can push your listing higher which results in more impressions (for free) and more business.
More visitors click through to your website (Better CTR)
People reading reviews are like window shoppers. CTR is how many people click through your listing to come inside the shop. They may not buy right away. But chances are some of them will return to the shop for something that caught their attention.
CTR (Click Through Ratio) simply means how many people actually click through a search result and visit your website to discover more about you and your services.
If your listing has better reviews, readers are more inclined to click through and visit your website.
Experts agree that if you have a higher CTR, then you get even better rankings. If your listing looks interesting, search engines will push it even higher on the search page.
Enhanced trust and credibility
A wall of distrust stands between most home service businesses and clients. Due to previous bad memories, most consumers have come to rely less on words and more on deeds.
That's why there's nothing better than reviews to showcase that your business can be trusted.
What about one-star reviews? Don't they hurt your credibility?
They do. However, when managed properly there's no reason for you to lose sleep over them. You can simply bury them under amazing 5-star reviews (and resolution) and have a business that a potential client would want to call.
Improved sales and conversions
Getting more and more 5-star reviews and generating more traffic to your website would mean nothing if you're not generating reasonable business from those reviews. Right?
Research shows that consumers are likely to spend 31% more on businesses with higher reviews than on businesses with lower reviews.
Another study done by Michael Luca from Harvard Business School (HBS) found that on average, a one-star increase on Yelp leads to a 5%-9% increase in a business's revenue. Whereas one negative review can cost you up to 30 customers.
Therefore, you should start managing your online reviews today. And this guide will help you do exactly that.
Increased brand awareness
Before the internet, we used to have "word of mouth." Today we share our good or bad experiences about a business publicly via online reviews.
It's no surprise that 84% of people trust online reviews as much as friends.
If you're actively managing your brand, then you can have an advantage over large, national brands by dominating local results and beating them in your market.
Now what?
As you now understand that having online reviews is important, so how should you go about it? Chances are you'll go out and garner a few good positive reviews quickly… Then what?
Will you begin to see an instant boost in your business? Will your phone start ringing nonstop?
Nothing of that sort is going to happen. Because Search Engines look for a long-term pattern and they try to show only reliable businesses. That's why you need to put in place a strategy for consistent performance.
How to develop your review strategy
Although nobody knows how search engines like Google exactly work, experts agree that five factors impact consumer behavior (and search engines):
Star Rating: 5-star reviews are always better than 4-star reviews at enhancing trust.
Legitimacy: How trustworthy a review seems (Consumers have wised up to the possibility of fake reviews.)
Recency: 50% of consumers only consider reviews from the past two weeks, while 73% consider reviews from the last month.
Sentiment: Consumers want to see positive reviews.
Quantity: the more the merrier.
To sum up, when you improve user experience with better reviews, you also improve your rankings. Hence, instead of a one-off push for maximum reviews put in place a long-term strategy.
And talking about review strategy, why not deploy one right away with the following process:
1. Set review targets
By now you know search engines want users to see good active businesses at the top of the page. As we have already seen, consumers pay attention to the recently written reviews. You need to create a review process and set targets for your team to receive excellent reviews regularly.
2. Select the review sites you want to target
Not all review sites are equal when it comes to producing the desired results.
Out of the many review sites, Google, Facebook, and Yelp carry the most weight for home service businesses. And then we have other niche-specific sites like Angi, Houzz, HomeAdvisor.
So, which is the best review site for you and where should you focus your efforts on? Let's see.
Google
Google rules the internet.
It's the most visited website – and gets way more traffic than the next two websites combined. It gets 70% of the search queries. And it's one of the most trusted brands.
And the good news is Google places a huge emphasis on local businesses. Local businesses get second place in the search results just after the paid ads. So, if you manage your reviews well then chances are you'll witness a compounding effect, and your business listings may rise to the top.
Facebook
Facebook is catching up fast. It has over 1.6 billion daily active users. And an advantage is that most users are already logged in via their mobiles which allows them to post reviews on your business page.
Yelp
Although it's nowhere as popular as Google and Facebook, Yelp gets 178 million unique monthly visitors. That's why you should keep Yelp on your mind.
However, you're not allowed to solicit reviews on Yelp. And it's important to have decals on your vehicle and offices to 'Find us on Yelp!"
Angie's List or Angi
Angi is a unique review website. Users pay to become members (usually homeowners) and businesses pay to actively manage their listing (although the listing is free).
One major advantage is that you get verified homeowner leads and reviews. But a major disadvantage is that the visibility is limited to the paid site users and that the free plan doesn't allow you to manage your business.
Houzz
Houzz is another place where homeowners go to find and review home services businesses.
However, it's more popular for home improvement, design, or remodeling projects. An advantage is that homeowners usually decide what they need via images. But a major disadvantage is that the listing is paid.
In any case, Google and Facebook need special attention. Whereas other websites should be monitored so you're not collecting negative reviews without your knowledge.
HomeAdvisor
It's a platform where homeowners submit their projects and HomeAdvisor forwards those leads to contractors when they join the HomeAdvisor Pro.
As the service is free for the consumer you may get low-quality leads.
3. Create processes for regularly generating new reviews.
You already know that 91% of people read reviews – but the truth is only 6% of consumers write them.
That means you must create processes for generating high-quality reviews instead of relying on people.
When we look at the customer journey, most customers are inclined to write positive reviews just after they experience the product. However, timing and convenience also matter. If they have to jump through the hoops to write reviews, then chances are they won't.
So, what are the best ways to generate more positive reviews?
a) Ask right on the job.
Once the work has been completed your agent on the field can communicate with the client and ask for a review. To make this process simple, they can also have QR codes with them.
b) Create SMS or email campaigns.
You can send a customer satisfaction survey through SMS or email and have a link to our local listing, so clients can leave a business review.
You can also create email campaigns where an automated follow-up email gets sent in 3 days and 7 days if the action has not been taken by the client.
4. Reply to all reviews, even the negative ones.
Positive reviews are as good as gold. Can negative reviews turn into opportunities too?
First a shocker. Research has found that businesses with 4.5 stars on Yelp grew more than businesses with five stars.
It's probably because consumers expect a few negative reviews along the business journey. Then once you respond to the reviews you are sending a signal to other potential clients that your business really cares about its clients.
Second, Google loves when a business actively replies to user reviews. This shows the business is active and serious.
Third, you can use certain keywords in your reviews to allow your listing to have a higher probability to appear for those keywords also.
Lastly, you can start a conversation with the client to resolve the issue and later on, change the review.
Companies spend top dollars to gain valuable feedback on their products. In that way, you're essentially advancing your services also.
5. Choose a reputation management tool
Would you like to get automatic reviews without chasing clients every time you need them?
Getting quality reviews is the goal but ultimately, you'd also want to monitor and respond to both positive and negative reviews without spending your whole day online.
Google says this upfront, responding to reviews "shows that you value your customers and their feedback." And remember Google wants users to have a positive experience.
That's why you need a tool to optimize your review management so you can manage everything quickly and focus on what's important.
Look for these features before you choose any reputation management tool.
An online solution that can be accessed from anywhere, at any time.
Ask for reviews when clients are most likely to give you positive feedback.
Help you generate more reviews through automated email and SMS follow-ups.
Ability to monitor new reviews from all the review sites in a single dashboard.
Allows you to respond to reviews on the most important review sites.
Functionality to monitor niche industry review sites.
Features to export reviews on a branded webpage.
Integration with business applications you already use.
Ability to generate insightful data to push your business in the right direction.
The more high-quality reviews your listings receive, the more high-quality clients you will attract.
Advanced strategies to make your reviews work better.
You have been working hard on your business and your clients have been rewarding you with a flurry of positive reviews. Now isn't it time to put them to hard work?
Happy clients are your assets. It's free marketing and PR you didn't have to pay for.
Your reviews don't need to sit ideal on the review site. You can employ them on other platforms to generate more trust and business for yourself.
Landing Pages: You can display a feed of reviews from review sites on any landing page.
Like this business pulled a great review on Google and published that on their own website.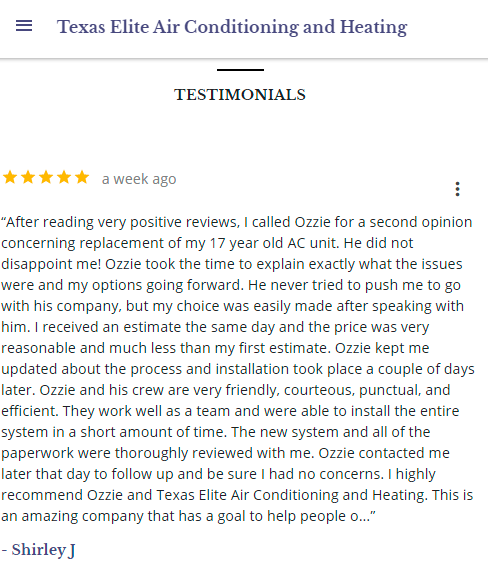 Another example of using Facebook review on a landing page: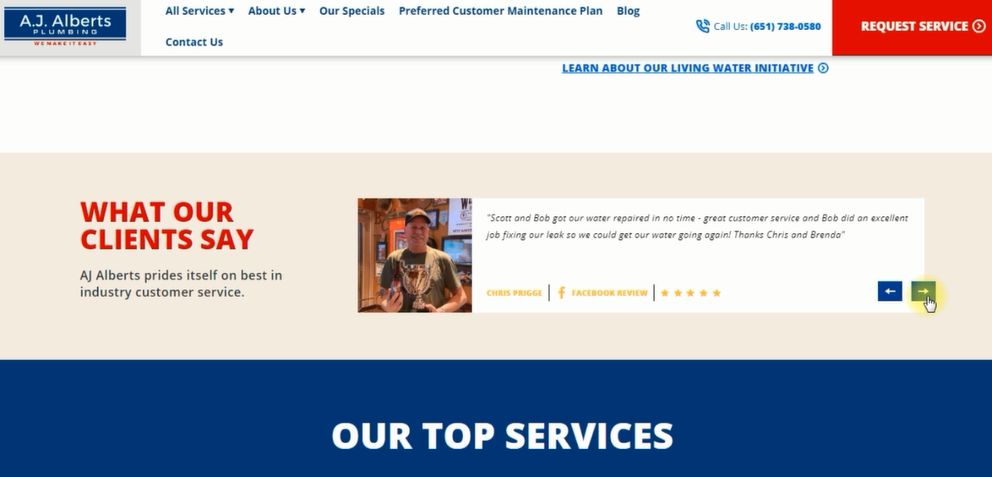 Contact Pages: Add positive reviews and testimonials on your main contact pages to entice readers to contact you. Like this page which has placed the testimonials below the "get in touch" section.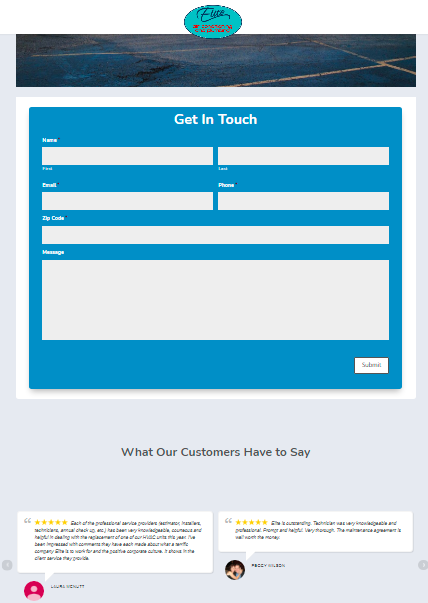 Schema: Schemas enable us to put data in a way that search engines understand. Once accepted, search engines can display your results attractively with rich features in the organic results: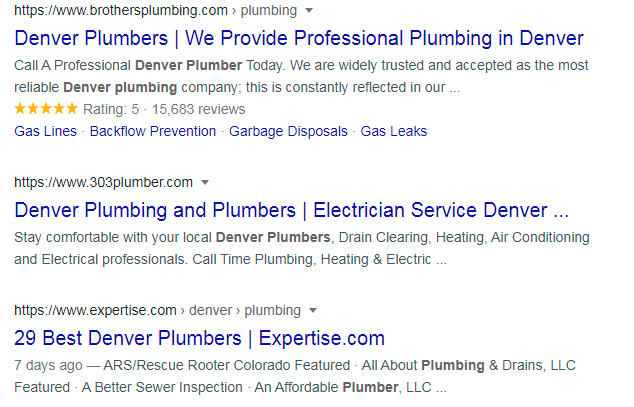 You can use Google's Structured Data Markup Helper to create them or use free WordPress plugins.
Twitter and Facebook: You can create social media posts with the best reviews and promote them online.
You can also create before-after photos and help potential clients know what you did.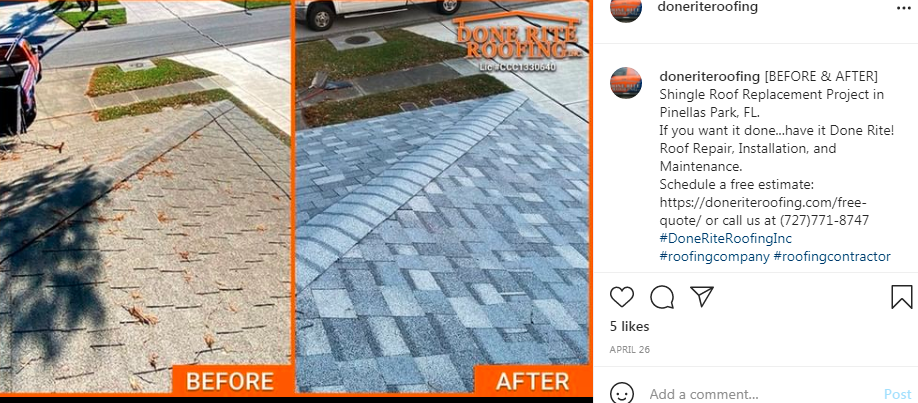 Alternately, you can thank the client for sending you kind words and remind others about your business.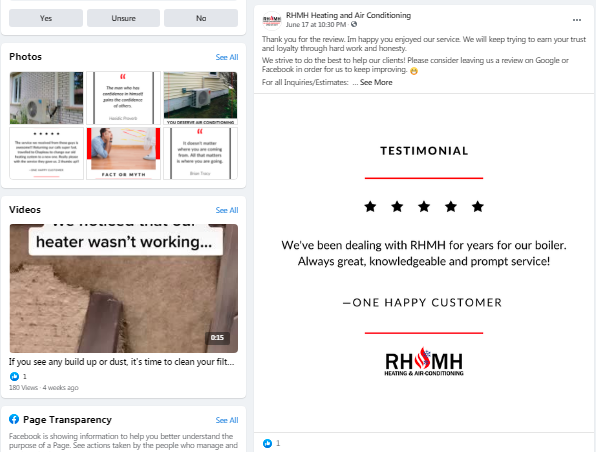 Google Posts: You can create posts quoting the best reviews and let new users know that you care.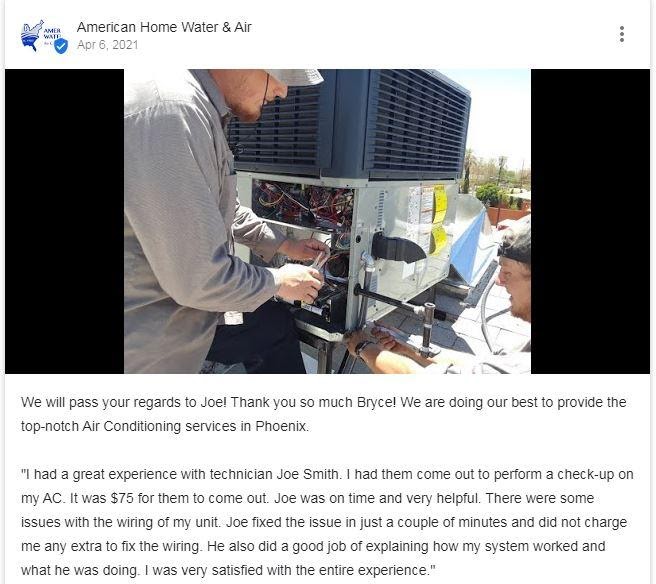 This post takes it up a notch. They posted testimonials from a new dad and displayed humanity at work. This should go viral.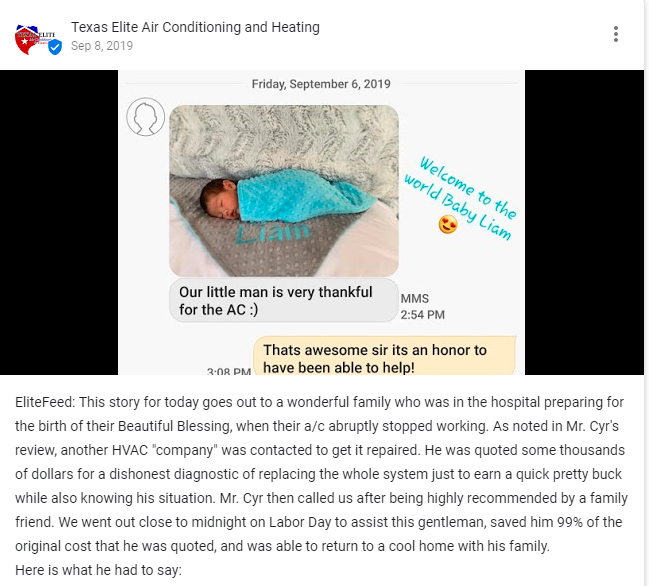 Email Marketing: You can send emails with the best reviews to remind users that you're the best home service business in your area. You can include review site logos and star ratings to get a better response.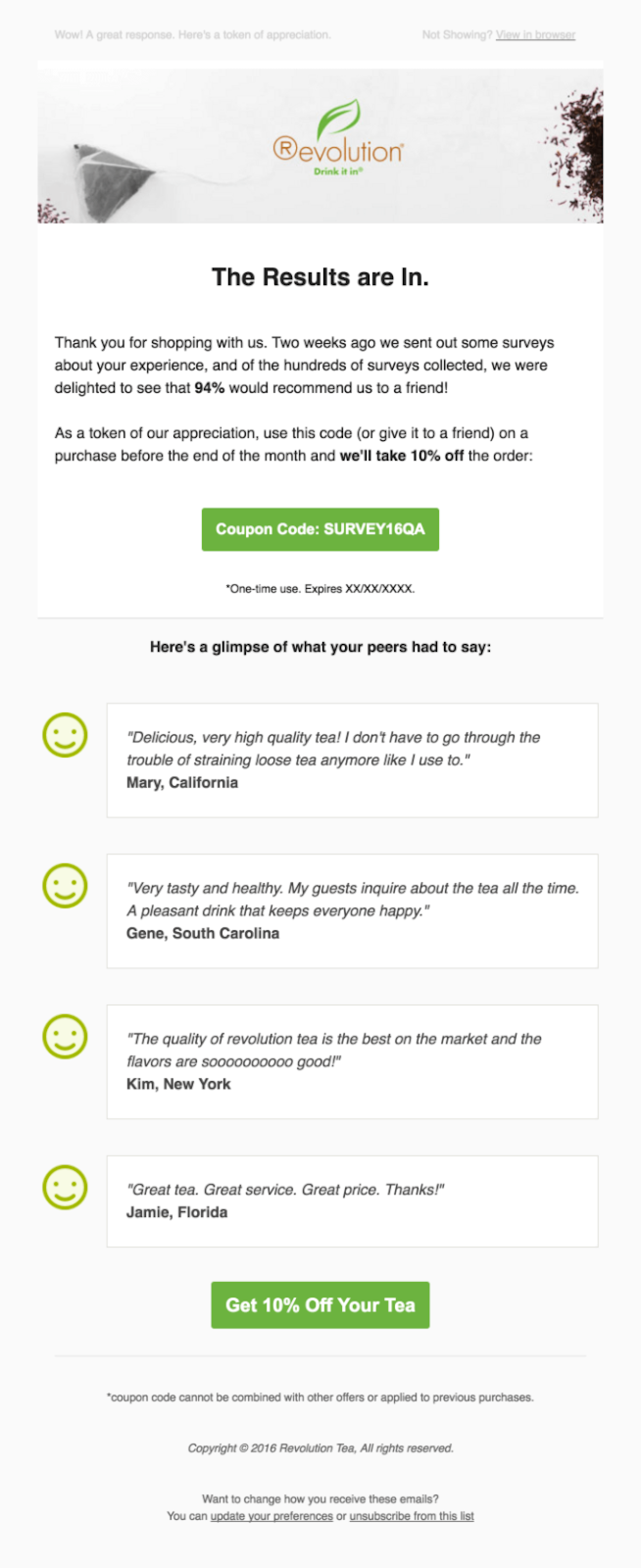 Pamphlets, Flyers, and Business Cards: Lastly use your reviews on any printed promotional material and stand out from the crowd.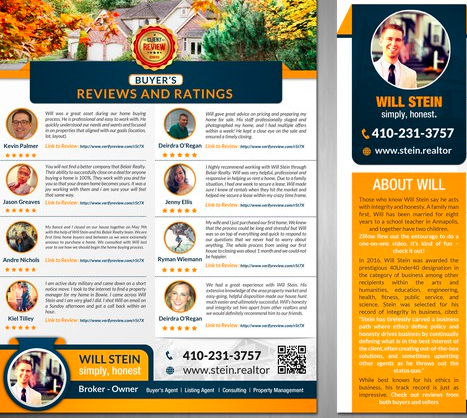 (source: 99designs)
FAQs about the Review Generation
How to get google reviews for my business?
Step 1: Verify your business.
Only verified businesses can respond to reviews.
Use our detailed guide to verify and optimize your Google Business profile.
Step 2: Create and share your review link.
As we have already seen, timing and convenience are critical. Share your review link (or QR code) with your clients when they are most likely to feel satisfied with the work.
Plus, you follow up with reminders with email or SMS campaigns.
Step 3: Reply to reviews.
Your replies are your chances to not only thank them (remember only 6% of consumers write reviews) but also to put certain keywords and prove to other readers that your business is trustworthy.
How to get Yelp reviews
Step 1: Claim or create your yelp business page.
Only business accounts can respond to reviews and update business information.
Step 2: Feature a Yelp sticker or a Yelp badge.
Never solicit reviews. Yelp is very strict with its policy about not seeking reviews.
Check out our guide to gain more visibility on Yelp
Step 3: Optimize your Yelp page.
This includes having attractive images and relevant keywords users might be using.
How to add Google reviews to your website?
If your website is on WordPress the easiest way is to install a free plugin. Otherwise, your review management software should have this feature.
Step 1: Install the "Widgets for Google Reviews" plugin.
Step 2: Copy the Google Search/Google Maps URL for your business.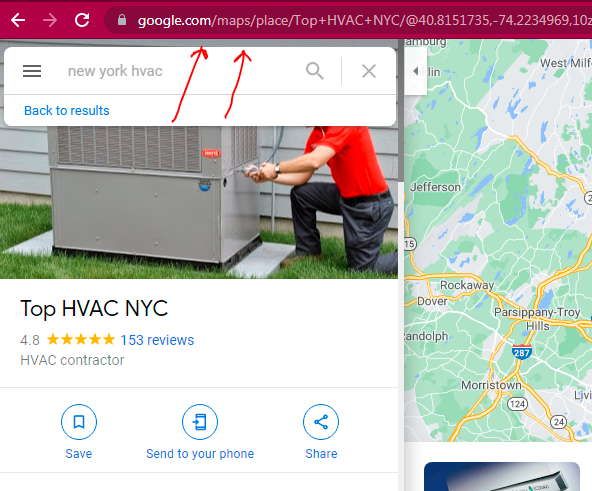 Step 3: Paste your Google Search/Google Maps URL and click 'Check'.
As it fetches your business profile, click "Connect."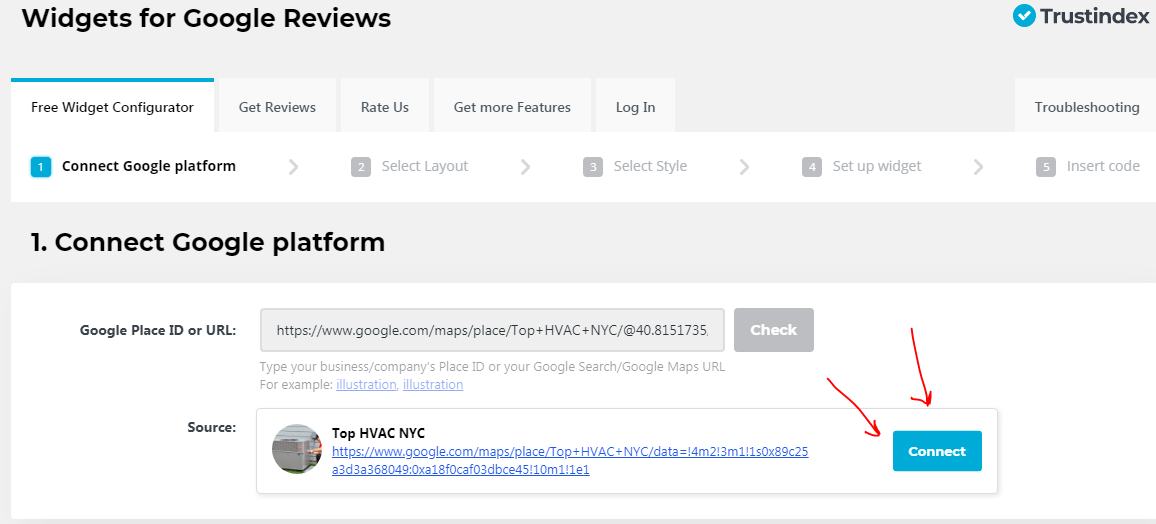 Choose from 35 Widget layouts and 16 pre-designed widget styles to display your reviews.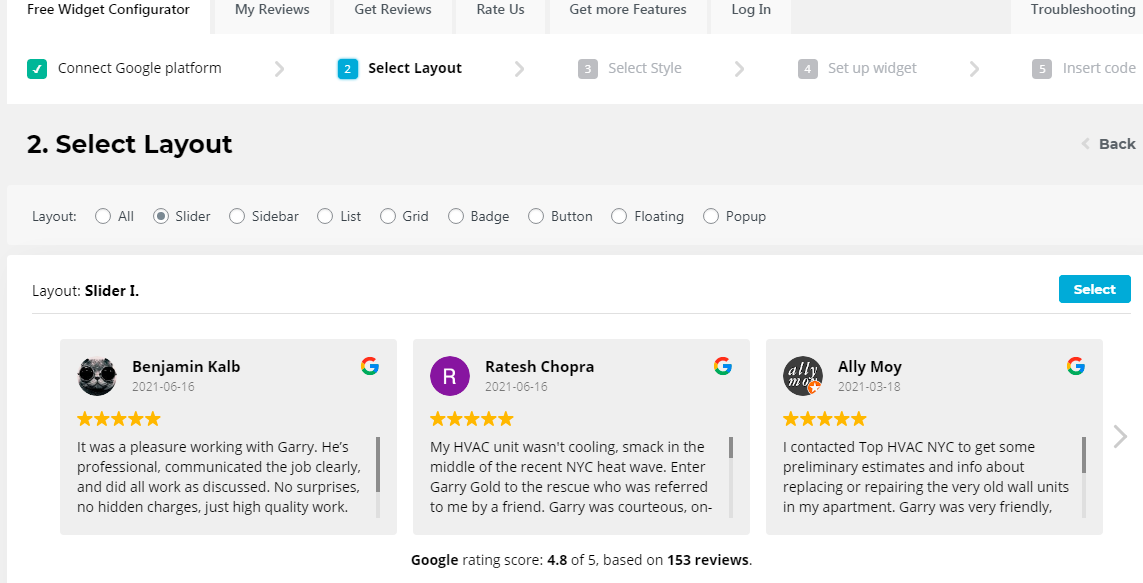 Once you've selected a layout, select a style suitable for your website.
Lastly, choose 4-star and 5-star from Filter your reviews and click "Save and get code."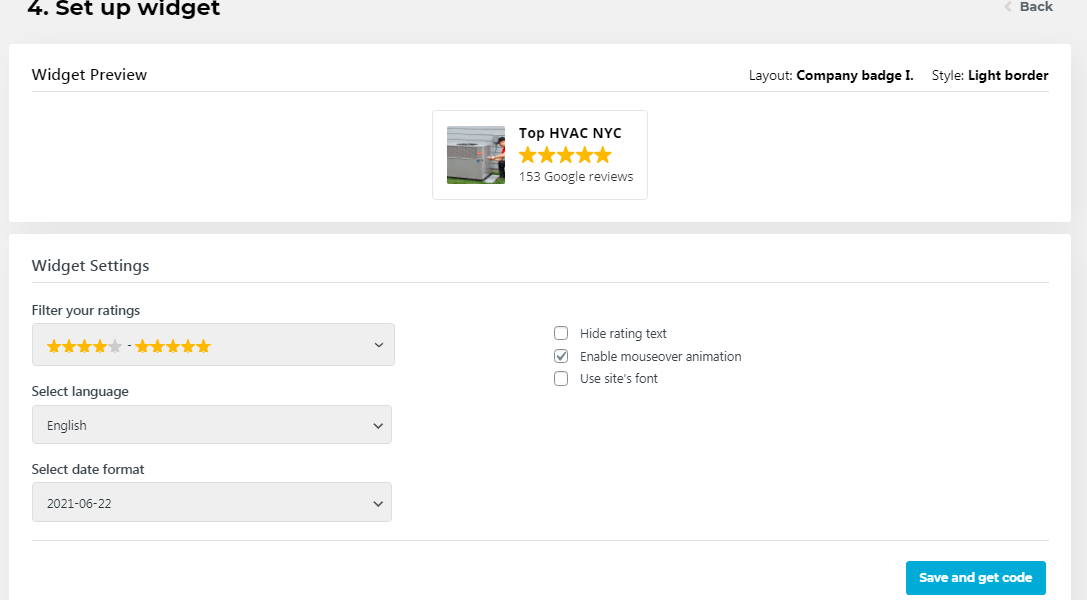 Step 4: Copy the shortcode.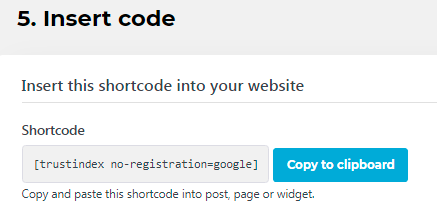 Step 5: Paste the Shortcode at a suitable location where you'd want to display your reviews. And that's it.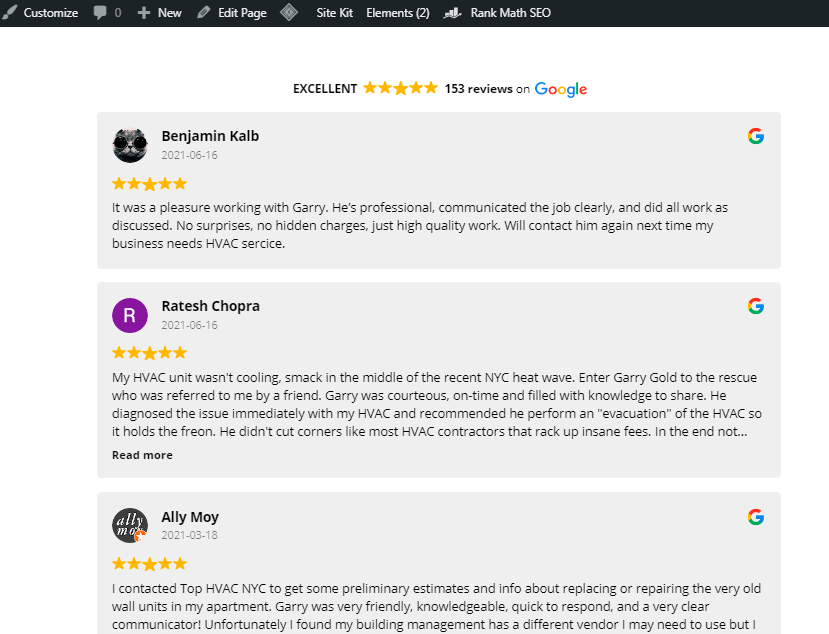 You have your reviews on your website wherever you want.
Conclusion
Online reviews are becoming important as they magnify a home service business. We know that 91% of consumers read reviews but only 6% of them write one.
Good reviews boost your business, but negative reviews don't necessarily pull you down – if you manage them properly.
That's why having a reputation management tool is beneficial. Before you send requests to write reviews, read the platform's guidelines. Yelp doesn't allow you to solicit reviews whereas on the largest platform like Google you can.
When it comes to enhancing trust and credibility fresh reviews matter. That's why having a long-term plan and strategy is critical.
Here's a short infographic you can share with others: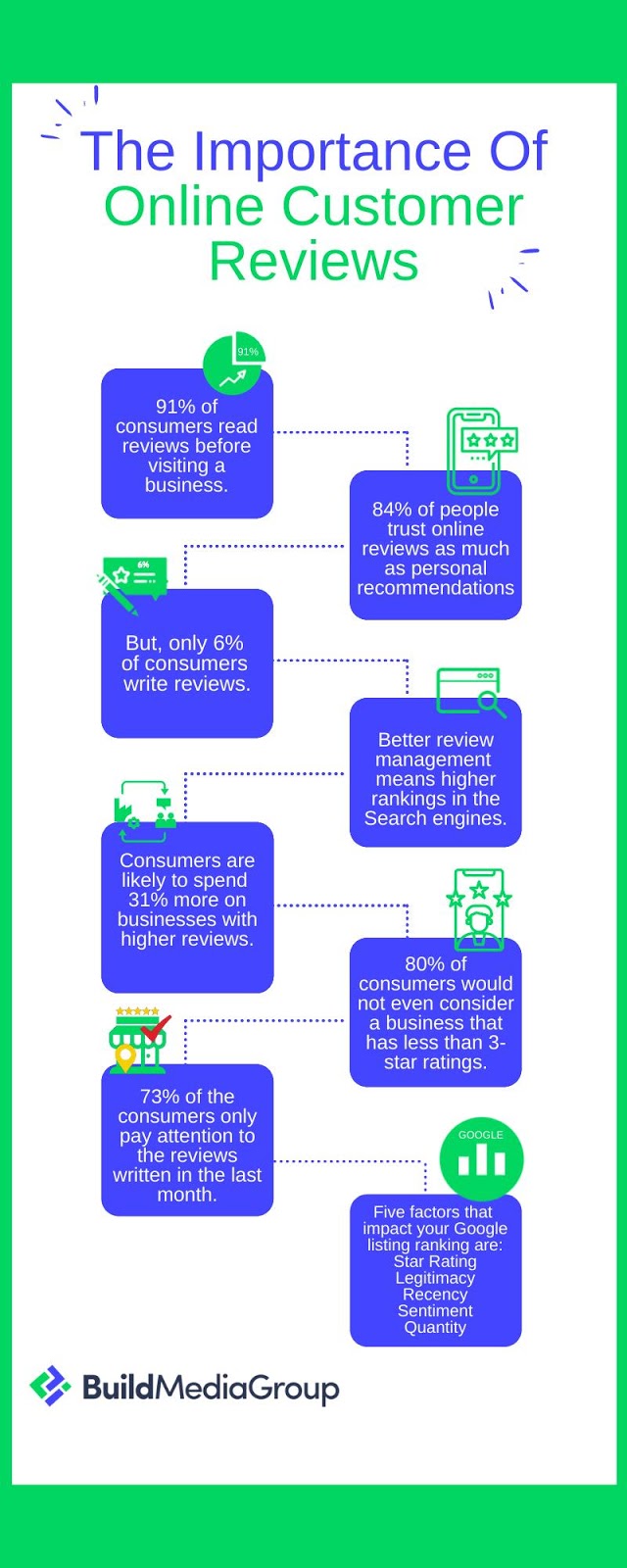 Liked this article? Here's what you should do next
Join our Private Facebook Group to get access to our ebook Marketing Hacks for the Wealthy Contractor. This ebook is the blueprint we use to generate over $1 Million in revenue for our contractor clients consistently.
Follow our LinkedIn Page, Twitter or Instagram
If you know another contractor who'd enjoy reading this page, share it with them.
If you'd like us to take your business to the next level then contact us for a free marketing strategy assessment.